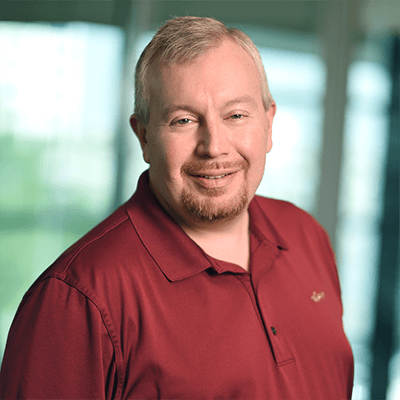 Doug Spencer, CFP®
Personal Financial Coach

Kansas City, KS
My Story
Doug's goal is to help people figure out where they are, where they want to be and how to get there, while still having a life. He is a passionate sports fan who lives and dies by the fortunes of his alma mater and hometown teams – Kansas State University, the Kansas City Royals and Chiefs. During the off-season (and much of the season, let's be honest), he spends most of his time following the exploits of his daughters – oldest already in college and the youngest in drama and cheerleading. He is actively involved in his church where he co-leads a study group – the self-named "Wine club with a Bible problem" – and also chaperones youth group mission trips.
Prior to joining Financial Finesse in 2013, Doug discovered his passion for financial coaching while working with service members and their families through a contract with the US military. He also had his own financial planning practice and was a vice-president/financial planner for two different regional banks in the Kansas City area.
Doug's nickname at Financial Finesse is "Storytime," due to his propensity to take anything that happens and make it into a good story. He's also a great listener, which enables him to help others process then take action in their financial lives.
Some Key Life Milestones I've Crossed:
Got spouse through grad school with no debt<
Bought multiple homes and rental property
Survived a layoff
Started a business
What I'm Focused On:
Putting my kids through college
Saving for retirement
Cultivating hobbies for retirement
Years of Experience
21
Specialty Areas
Retirement
Home Ownership
Estate Planning
Education
B.S. in Business, Kansas State University