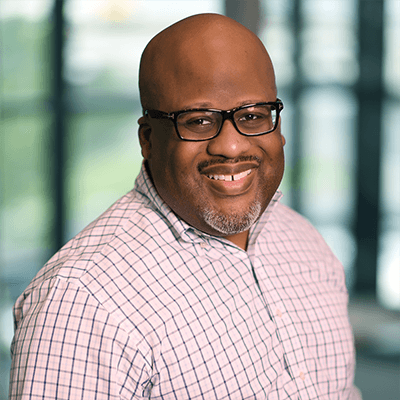 Cyrus Purnell, CFP®, MBA
Personal Financial Coach

Memphis, TN
My Story
Cyrus Purnell is a financial coach with Financial Finesse, providing unbiased workplace financial education and financial coaching.
Cyrus began his financial planning career with a regional bank in 1999, working in various areas and ultimately leading a multi-family office and working as a trust administrator. While offering an impactful financial planning experience, Cyrus had a desire to make an impact on a broader scope. As a coach at Financial Finesse, he now focuses his efforts on empowering those from all walks of life make their own financial decisions to achieve their life goals.
Cyrus resides in his native city of Memphis, Tennessee with his 3 children. Cyrus is familiar with the pressures of balancing the competing priorities of planning for his own financial future while ensuring opportunities for the younger generation.
Cyrus and his family enjoy great food (cooking and dining out!), road trips, cycling and volunteering at their church. Each fall, you will find Cyrus watching football and passionately rooting for his alma mater, The University of Tennessee.
Favorite Financial Book: The One-Page Financial Plan by Carl Richards and Master Your Money by Ron Blue
Fun Fact: Cyrus learned about Financial Finesse listening to NPR.
Favorite Quote: "An investment in knowledge pays the best interest." – Benjamin Franklin
Some Key Life Milestones I've Crossed:
Had 3 lovely kids
Became debt free (first time around)
What I'm Focused On:
Planning / saving for college
Trying to fit more fun into my budget
Years of Experience
23
Specialty Areas
Benefits Planning
Retirement
Taxes
Education
M.B.A., Christian Brothers University
B.S. in Finance, University of Tennessee