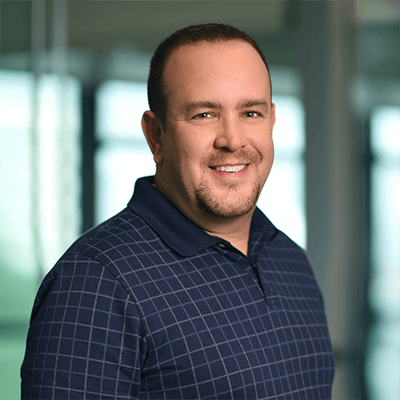 Chris Setter, CFP®, MBA
Personal Financial Coach

Colorado Springs, CO
My Story
Chris, like many of the employees we work with at Financial Finesse, struggled financially when he first began his career over 10 years ago. As a financial advisor at the time, he found that quite ironic, but realizes now that working hard to get his financial ship in order made him a better planner. That experience and motivation informs his work and drives his mission to change lives daily.
Setter, as he's known by the team, has always called Colorado Springs his home, where he spends as much time as he can with his wife and two daughters, who are involved in soccer, basketball and swimming. He's a self-professed die hard fan of Colorado professional sports teams and can be found at Mile High Stadium any given Sunday during the NFL season.
Over the years, he's evolved his outdoor sports away from skiing and snowboarding (too cold, too many crashes, so only a couple times a year) and toward golf (humbling, but worth the time and practice), while always enjoying anything outdoors with his family.
Chris tries to follow a philosophy of being in the moment. Recognizing that we can't change the past, but we can learn from it, he brings that attitude to the people he works with. As he puts it, "The first step to improving our financial lives is to forget the past and focus on making better decisions today that lead to healthy habits. Letting go of past mistakes is necessary to start the process of improving our situation moving forward. Helping people see the path forward and the steps to get there is what I love to do."
His favorite quote that lends some insight into his investing style is "A portfolio is like a bar of soap, the more you handle it, the smaller it gets."
Some Key Life Milestones I've Crossed:
Dug out of significant debt
Successfully built and sold a business
Became a parent
What I'm Focused On :
Saving for investment property
Saving for college
Planning / saving for retirement
Years of Experience
12
Specialty Areas
Retirement
Investing
Insurance
Education
M.B.A., University of Colorado at Colorado Springs
B.S. in Environmental Health, Colorado State University