One of the five components of a complete financial plan is estate planning, the foundation of which is a last will & testament. Most people don't really start thinking about a will until they have kids, but really, everyone should have one, even if it's simply written on a napkin. Here's what you need to know:
What is a will? Your will is a legal document that directs what happens to your stuff, names your executor (the person who will be in charge of making sure your stuff gets to whom you direct), and also names your preferred guardian for any minor children you leave behind.
Where can I get a will? First, check to see if your employer offers any type of legal benefit. Even small employers sometimes give you access to an online portal where you can complete a questionnaire and have a basic will created, which is how my husband and I did our first drafts just to get something on paper. Other employers offer the ability to pay a small payroll deduction for access to discount programs. Depending on the cost, it may make sense to join for one benefit year and then have your key estate planning documents drafted to get the full value.
You can also draft and print a will online through a couple of different services like Nolo or Legal Zoom. My first will was done this way and while an attorney reviews your document to ensure it complies with your state's laws, it's easy to mess up. I had just moved and put the wrong county of residence on mine, an error I didn't know I'd made until it was too late to change it. I'm lucky that I don't know if it would have made a difference, but that's the big pitfall of the DIY will. A lawyer checks that it complies with legal standards, but would not be able to verify its correctness.
For people who own businesses, have blended families or even just a notable amount of wealth amassed, hiring an estate planning attorney is usually worth the additional cost to make sure the nuances that come along with more complex lives are properly addressed according to your wishes. My husband and I recently signed new wills with an attorney. She not only made sure our plan coordinated with our various savings and distribution wishes, but pointed out provisions we hadn't thought of such as including money for our future children's potential guardian to expand her home if needed to accommodate the added family members or allocating money for our future kids to travel to visit other family members like their aunts and uncles. Most lawyers charge a flat fee for this service, ranging from hundreds to thousands of dollars, depending on where you live and what other documents you also need drafted.
What makes a will valid? Each state has laws that dictate the rules. Yes, you can write your wishes on a cocktail napkin, but you have to sign it and many states require you to have two non-named witnesses also sign that you were the person that signed it.
This was actually a bit of a comical complicating factor in the signing of our wills. My husband and I had trouble finding a time when we were both available at the same time as our attorney when we could also have two non-named witnesses present. We finally met our attorney at my local health club where we asked other gym members to witness as we signed! A bit goofy, but it got the job done. A more common place to find witnesses is your local bank.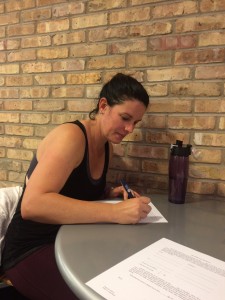 What happens if I don't have a will when I die? Dying without a will is called dying "intestate," and your estate is distributed according to your state's laws. If you're married, at least part of your estate will go to your spouse in all states. But if you're not or heaven forbid, you both die at the same time, then the laws vary from state to state. In Illinois where I live, a person who is not married with no children would have their estate split equally between surviving parents and siblings.
I had a college friend whose live-in boyfriend died tragically in his 20's. His parents weren't fans of their living arrangement, so she was completely cut out of the funeral arrangements and of course, left high and dry when it came to his stuff. He owned the house they lived in, so she was suddenly homeless too. No one likes to think about dying too young, but a will would have at least made sure she could keep some physical mementos of his.
Can I change it? Yes, and that is an important point to remember. You want to draft your will for how your life is today. Then as life happens, you can always update your will for your new circumstances. Key events that should cause you to make an update would include marriage or divorce, birth or death of a named beneficiary or even a falling out with one of the administrators of your estate like your executor or guardian.
The bottom line is that life can get complicated very quickly, and dying without a will leaves the settlement of your estate to the county probate court where you live. You probably don't want them making critical decisions for your loved ones. Do your family a favor and put your wishes in writing just to be sure.