Pay it Forward
We've curated a personalized COVID-19 Financial Survival Kit for you to share with your employees, at no cost.
We are here for you.
Financial Finesse's mission has always been to provide financial guidance to those who need it the most, at no cost to them. That's why we're releasing a suite of COVID-19 resources to everyone, at no cost. Whether you are in a financial crisis, out of work, or just looking to prepare, we've got your back. ​
Please share this with anyone impacted by this pandemic– employees, friends, family, or neighbors. Information is power, and we want to empower the nation to come out of this as strong as possible. ​
Sign up below.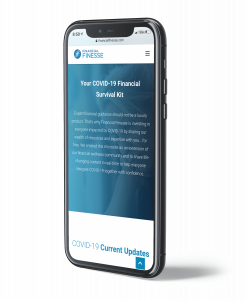 Help is on the way.
Fill out your information and a link to access Your COVID-19 Financial Survival Kit will be sent to your email.
"Imagine a world in which the vast majority of us wake up inspired, feel safe at work and return home fulfilled at the end of the day." – Simon Sinek