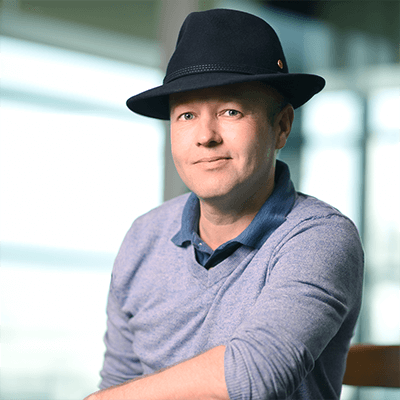 Teig Stanley, CFP®
Personal Financial Coach

Denver, CO
My Story
Teig vies for the most interesting background award on the Financial Planner team. The son of a miner and grandson of a WWII Colonel who was the first to cross the Rhine during Operation Lumberjack, he has a tremendous respect for history and wisdom, and grew up as a professional entertainer and broadcast news reporter (his first acting gig was at age 6!). Teig's work has taken him around the world, including as an International Tour Manager and actor/singer/dancer. His favorite career, however, will always be as a father and husband to his wife and two children.
Prior to joining Financial Finesse, Teig owned a mortgage and insurance brokerage where he was also a licensed Long Term Care Insurance specialist – he's one of our go-to planners for more complex strategies involving mortgages and insurance planning. While financial planning pays the bills these days around the Stanley house, Teig continues to entertain in regional productions as time permits. Most recently, he starred alongside his opera singer wife in a light opera in summer of 2016.
A native Coloradoan, Teig spends his free time on a variety of hobbies including watching movies, tuning up his cars, entertaining for fundraisers, hunting, cooking, and hanging out in the mountains with his friends (most of whom hail from the Greatest Generation), listening to their stories before they pass. A bit of an old soul, Teig loves to travel and immerse himself in other cultures. He believes that words are magic and that we must be careful with how we use them.
Growing up, Teig's family was so fiscally conservative that he feared being forever lower middle-class. Teig learned to break that cycle early in his life, and eagerly passes that experience on to others to help them grow – it's part of what drives his passion to change lives at Financial Finesse.
To Teig, the most important financial behaviors are: consistency; living within your means; investing in your future self; and defending your financial well-being against peer and social pressures to behave unwisely.
Some Key Life Milestones I've Crossed:
Resurrected from divorce at 27
Owned and sold a business
Started working at 7, became financial emancipated at 15, and paid my way through college
Remarried and built an extraordinary family with two kids
What I'm Focused on:
Not being a Scrooge and spending on travel experiences for the family
Saving for my kids' college
Funding an orphanage
Years of Experience
23
Specialty Areas
Benefits Planning
Money Management
Home Ownership
Education
B.A. in Cinema & Television Production, University of Southern California